News
2013-04-26
Who should you ask for help at Kwikwap?
You should allways first contact your agent or consultant who sold you the website.
Kwikwap has a client charter which outlines what a client can expect from his Kwikwap Consultant in return for the R2,500 paid to get the website up and running. See admin and reports / Legal Matters and Welcome email. Read the client charter to understand this. Client charter as of today is to be found below.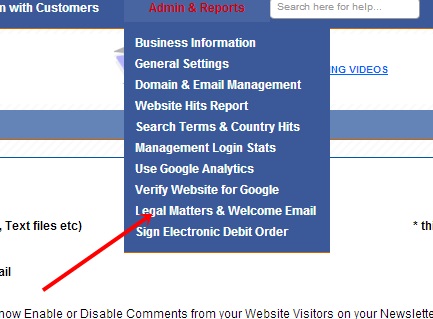 To see who your agent is you need to click on the Guides Icon. Top right of the Management Portal.
Please click on the image below. (A new window will open)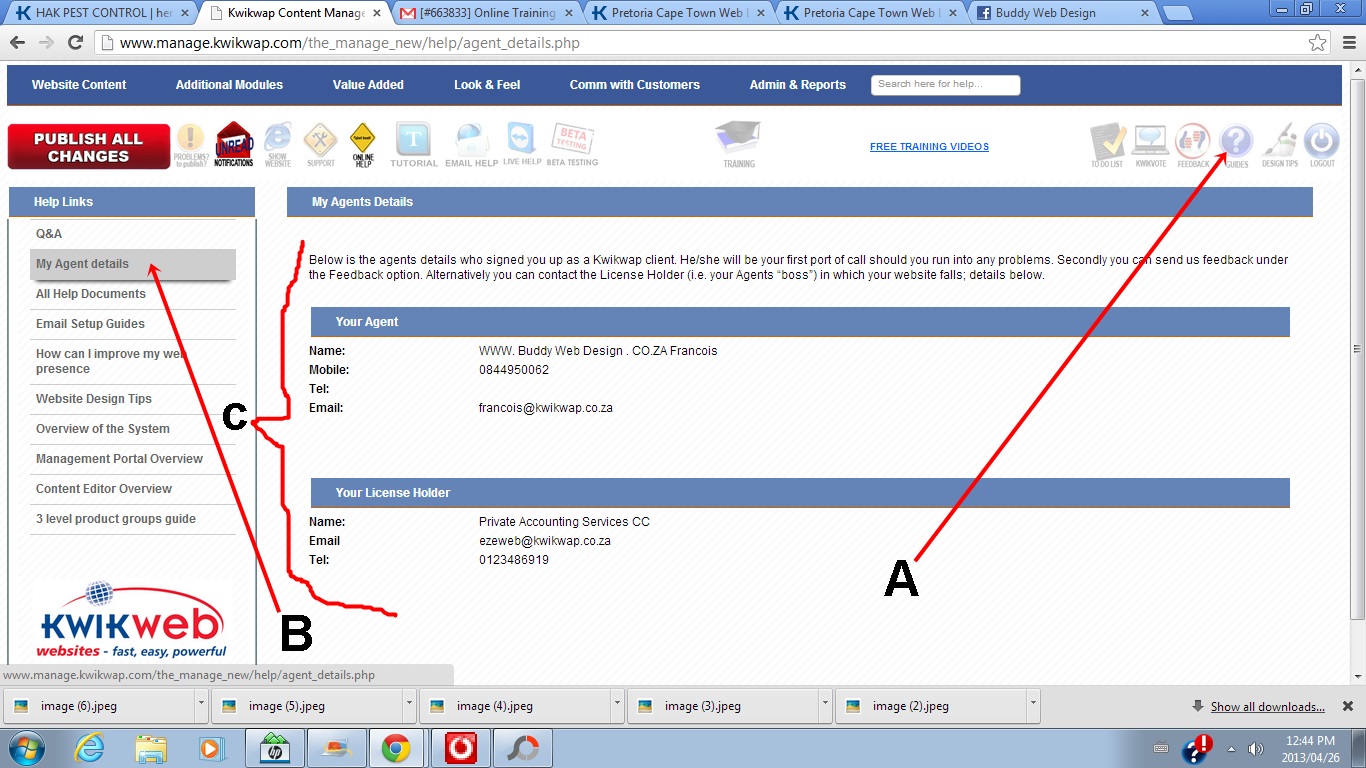 A) Guide / Help Icon
B) Guide / Help Links will open - select My Agent Details
C) Read the information
Allways first contact your agent, then the licence holder (your agents boss).
There is also a feedback section.
You can also consider to email technical@kwikwap.co.za.
Visit the Kwikwap Website to find more contact details of Kwikwap if all else fails.
---
Kwikwap Client Charter / Service Level Agreement

A Kwikwap Client has the following rights:

1. To be helped by a Kwikwap Consultant to set-up a website framework and a basic website design.

2. The set-up may or may not happen in front of the client. Set-ups in the client's presence usually costs R2,500.

3. Set-up fees are non-refundable and are a contract between the client and the Consultant.

4. If the website is set up in the presence of the client, then the client may demand from the Consultant to be shown how any of the sections or modules work.

5. There is no fixed time that a client may demand from a Consultant in return for the setup fee, but the average time is 3-4 hours but no more than 8 hours (which includes demonstration and travel time and/or initial discussion meetings).

6. The set-up fee usually only caters for one training and set-up session with the client. In rare circumstances it could be two sessions. The session is meant to be a training session and thereafter the client should work on the website himself/herself. It is not fair to expect the Consultant to come back for numerous visits. It is expected that clients will be available for training within a month from the first meeting, whereafter the right to training lapses (although training can be rendered after a month at a fee)

7. The following work is not necessarily included in the standard services (and may attract additional charges): photography, scriptwriting, advanced graphic designing and excessive travelling (+- more than 100km).

8. If the website was not setup in the presence of the client, then the client may demand telephonic, Teamviewer, Skype or email support until the client understands the system. The Consultant may refer to written or video instructions.

9. The number of pages that will be loaded by the Consultant will depend on the time available after the client was shown how the system works. Although not cast in stone, a Consultant will not usually load more than 30 pages (or equivalent to 3-4 hours' work), products and/or images for the client. A client has a maximum of 30 days in which to supply the material whereafter the Consultant may charge extra to load information / material.

10. If a client's website is closed due to non-payment, it is the client's responsibility to inform Kwikwap that the outstanding balance has been paid and that the website must be switched on again. Clients will not receive credits for the time that the website was off the air.

11. If the client has an existing domain (that needs to be transferred to Kwikwap), it is up to the client to give notice at his current host. The client starts paying for his chosen product level, from the moment he signs on (or at least from the next debit order run) regardless whether the domain transfer has taken place. This is due to the fact that the transfer relies on the client giving notice at their current host and them accepting the ticket and these factors are outside of our control.

12. The Kwikwap Consultant is obliged to teach the client how:

To choose a template, change colours and upload a logo

To add and edit Product / Service, Newsletter, Documents, Events, Specials, Photos

Activate FAQs and how to answer them

Change contact details, activate the map & demonstrate how the advertisements work

Find the additional modules and to assist in setting up the applicable module for the client

To set up the online shop (but not necessarily open the internet banking account)

The Communicate with Customers section works (including showing where the instructions for the CSV file can be found)

Show the client where he can find Email Set-up Documents as well as the section called "How to Improve Web Presence"

To find the Help sections in the portal (including the two overview documents) and to show them where the Online Help is

13. If the Consultant is required to perform work outside of the above scope, a client can expect to pay extra fees based on a minimum hourly rate of R250.

14. To get access to the How to Improve Web Presence section in the management portal. Clients are reminded that their success on the internet is directly proportional to the amount of original text they have on their website.

15. The amount of personal support that a client can expect for his monthly fee should not be excessive (e.g. a client cannot expect that a Kwikwap Consultant should do PC support etc). A Fair amount of support will typically entail a few phone calls a month.

16. This Client Charter is subject to change. The "live" version in the Kwikwap management portal will be used if and when a dispute arises.

The Kwikwap Support channels work as follows (in order of preference):

1. Phone (or email) your Kwikwap Consultant. If you are not getting joy from a Consultant you have the right to request a new consultant if you supply us with a written motivation. Your Consultants name appears at the bottom of your website (unless you have chosen not to publish it on your website) and in the web management Portal.

2. Contact the License holder in whose License you fall (each Agent works for a License Holder). The License Holder's contact details can be found under Help / My Agent Details

3. Go to www.kwikwaptraining.co.za (it contains help articles and video tutorials), or www.emailhelp.co.za .

4. Use the Help section in the Client Management Portal (enter your question and view the answer) or the yellow Online Help button on the screen

5. Go to one of our regular training sessions (currently mostly done only in Gauteng)

6. Attend one of our online seminars (webinars)

7. Send an email to technical@kwikwap.co.za (this is actually for problems with the system and not operator queries)

8. Phone the head office on 012 809 0055
Get Help On WhatsApp Now