We assist small and medium businesses with Facebook Marketing. The first thing to understand about Facebook Marketing is that Facebook is all about extention real world customer relationships to the online world. If you are asking us to manage your Facebook page on your behalf you are basically asking us to be you or your business on Facebook. Thats an important position in any company and definitely not a position you want to give to a junior employee.
We spend a lot of time on Facebook as we get business from Facebook ourselves.
We automatically recommend our web design clients when people are looking for their services on Facebook. Often people, ourselves included are too lazy to Google so they ask on Facebook for recommendations.
See example of recent example where i recommended a client of ours: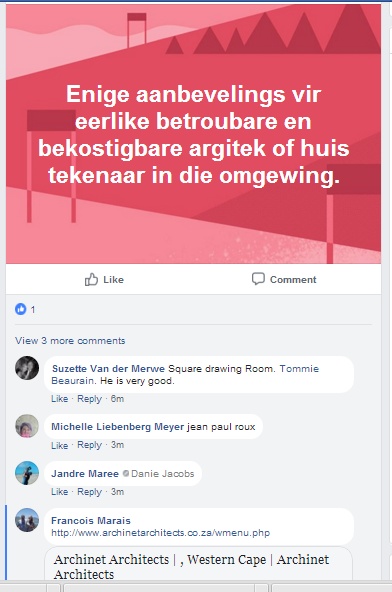 This illustrates why it is best to have a website for your business. Your friends might want to recommend you. It just looks so much more professional when your business has a website.
Advertising on Facebook can be a very effective way to immediately reach potential clients. We can assist with setting up a paid Facebook advertising campaign.
We also assist with conceptualising content for your Facebook page like competitions in order to grow your Facebook audience without adverts.
You need engaging positive fun content that will turn Facebook likes into engaing buying customers.
Projects and fees and targeted results will be discussed at the start of a project which will be reviewed at the completion of a project. We believe that one has to measure the results of any advertising campaign in order to make corrections, be it the development of a website , Google Ads, or Facebook marketing.
We have also developed special tools for the Helderberg, our service area in developing a Tradesmen directory as well as a Tourism website. These are great for doing Facebook Marketing.
Get Help On WhatsApp Now